Traveling in the northeast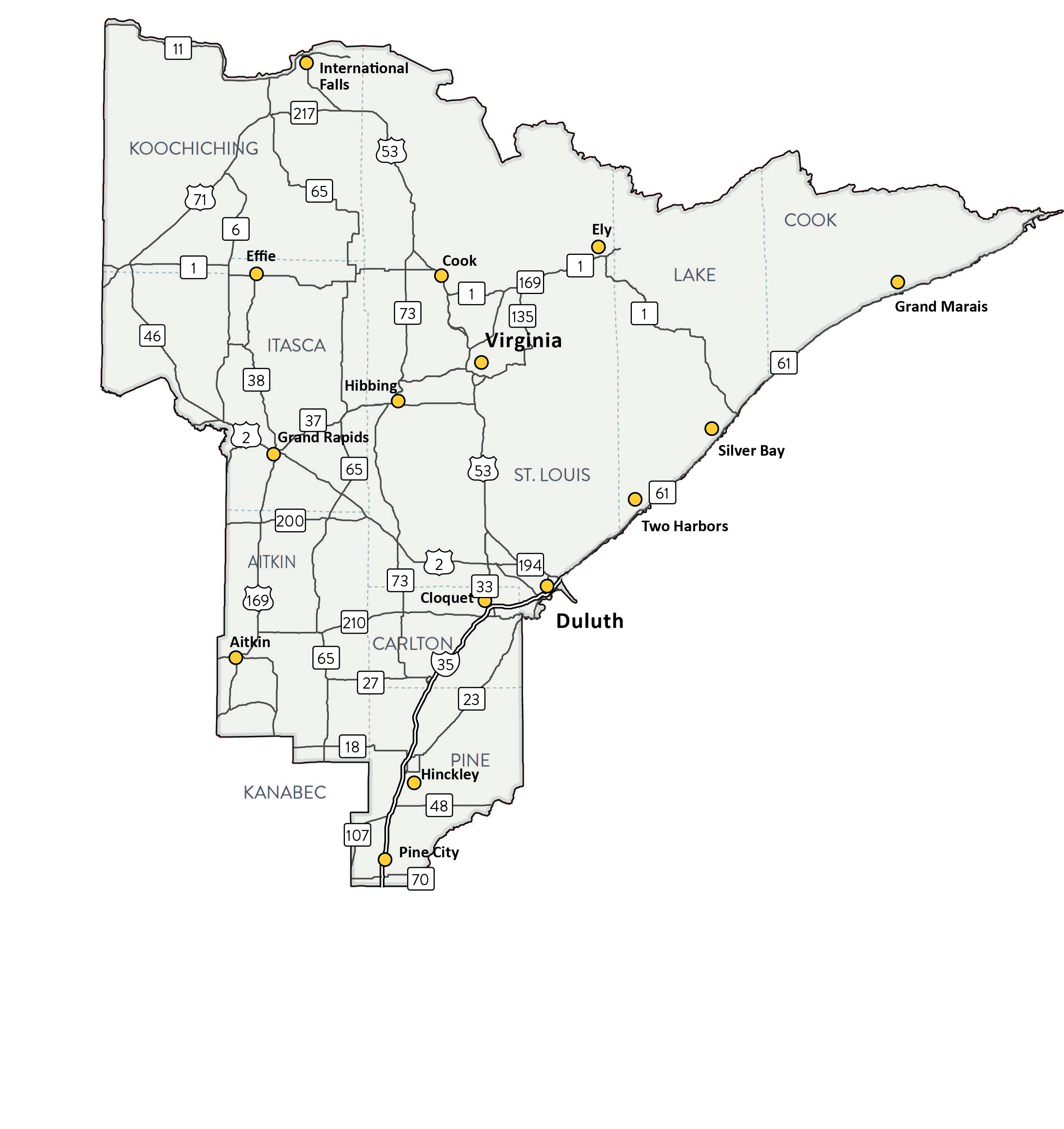 Traffic and roads
Twin Ports Interchange project
Coffee & Conversation quarterly meetings
Join us at our quarterly "Coffee & Conversation" meetings in Virginia. Each quarter we will feature a presentation about a MnDOT transportation topic, then follow with time for questions and answers. Meetings will be held at the address below. Please contact Beth Petrowske 218-725-2708 if you have questions or have a suggestion for a topic. We hope you can join us!
MnDOT Headquarters in Virginia
101 N. Hoover Rd., Virginia, Minnesota
Coffee & Conversation schedule
Thursday, April 4, 2019 at 10 a.m.
Topics: 2019 Hwy 53 Intersection and Passing Lanes Project, the 2020 Hwy 169 Taconite to Pengilly Safety Improvement Project
2019 Hwy 135 Improvements Project including: resurfacing, turn lane improvements at; the county public works building in Gilbert and at Scenic Acres Dr., drainage improvements in Gilbert and intersection reconfiguration at Aurora.
Presenters: Josie Olson, MnDOT District 1 project engineer and Trenton Pray, MnDOT District 1 graduate 2 engineer
Thursday, August 1, 2019 at 10 a.m.
Topic: To be announced
Presenter: To be announced
Thursday, December 5, 2019 at 10 a.m.
Topic: To be announced
Presenter: To be announced
Past Coffee and Conversation meetings
Thursday, December 6, 2018
Topic: Twin Ports Interchange Project
Presenter: Pat Huston, MnDOT Assistant District Engineer, Special Projects
Thursday, August 2, 2018
Topic: Discussion and demonstration of a new Interactive map to connect contractors with small businesses
Presenter: George Costilla, MnDOT Office of Civil Rights
Thursday, April 5, 2018
Topic: MnDOT District 1 2018 Construction Program
Presenter: Beth Petrowske, District 1 Public Affairs Coordinator.
Thursday, December 7, 2017
Topic: MnDOT winter road maintenance operations and winter driving safety tips
Presenter: Chris Cheney, MnDOT District 1 Maintenance superintendent
Flashing warning Systems
Five, new flashing warning light systems, designed with the latest technology, have been installed on Hwy 23/Grand Avenue to improve pedestrian safety. The systems feature flashing strobes that activate when the button is pushed. This lets drivers know that a pedestrian is attempting to cross the road. Pedestrians and drivers have a responsibility to use these systems correctly. Please make sure you and your family know how they work.
Pedestrians
Remember to push the button to activate the strobes. They won't activate unless the button is pushed.
Always watch to see that drivers have seen you prior to stepping into the roadway. Make eye-contact with them and make sure they are preparing to stop.
On multi-lane roadways, make sure drivers in all lanes are stopping.
Be especially cautious crossing at night. Wear light-colored or reflective clothing so drivers' can see you.
Drivers
Be aware that when the strobes are flashing, a pedestrian is attempting to cross the road and you need to stop.
State law requires that drivers come to a complete stop for pedestrians crossing at marked crosswalks and at all intersections — with or without pavement markings.
Stop two to three car-lengths in front of crosswalks so drivers in the next lane can see people crossing the road.
Always be prepared to stop for pedestrians. Pedestrians may cross the road at locations that don't have crosswalk markings or signs.
Winter operations